CMAS World Championship 2022 SALE: START TRAINING TODAY!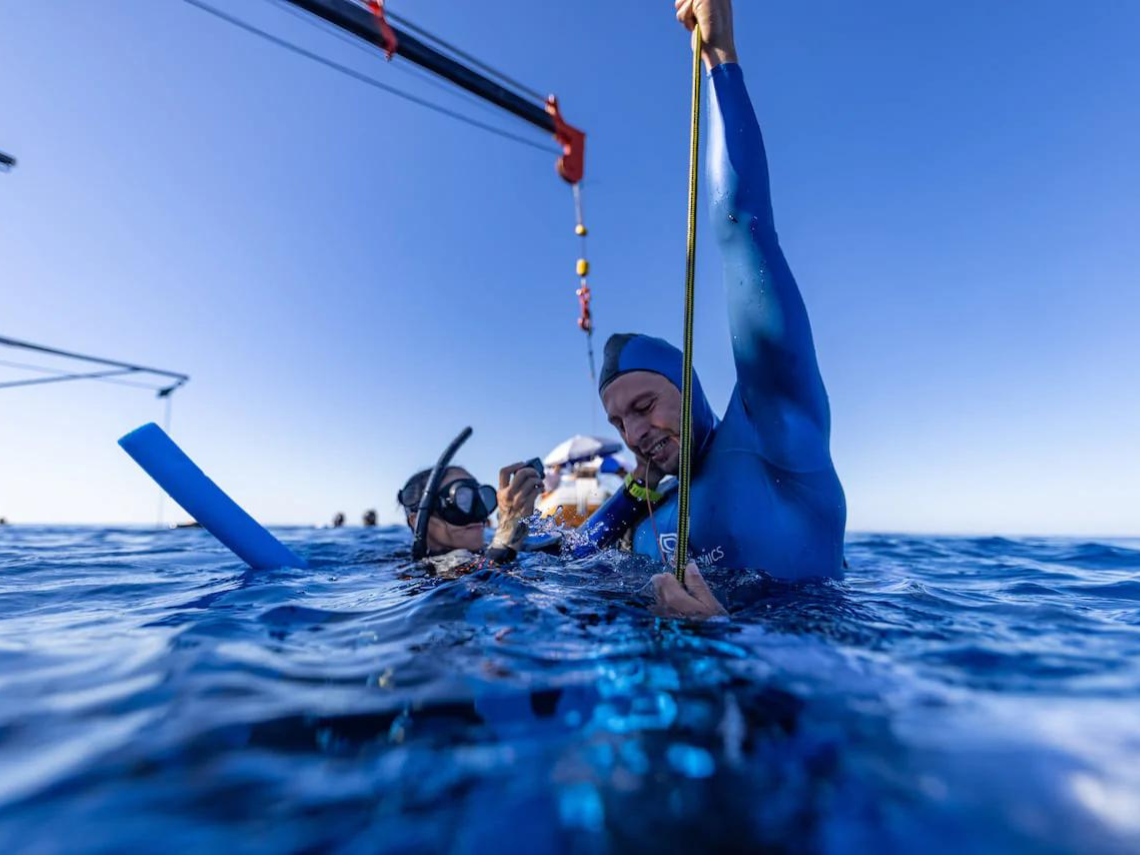 The record-breaking athletes at the CMAS 6th Freediving Outdoor World Championship 2022 aren't reaching these massive depths with hit-or-miss training - and you won't either.

That's why we're having a special sale on guided training programs to get you diving longer, further, and deeper, just like your favorite athletes at this year's World Championship. Base Training + is a collection of paid programs taught by top freedivers who are experts in their discipline. Take the guesswork out of your training with step-by-step instructions, guided workouts, stretches, and tips from celebrated freediving athletes.
From October 9 - 16 (midnight GMT), receive 25% OFF of the following BT+ programs:
- Intermediate Freediving Preparation by Matthieu Duvault: Leave your nerves at home and pass your next freediving course easily
- STA Challenge with Florian Dagoury: Gradually learn how to perform 3-, 4-, and 5-minute breath-holds - comfortably
- Frenzel Fundamentals by Adam Stern: Fix your pesky Frenzel issues or refine your existing technique

Movement members and Molchanovs instructors: Don't forget - you get this 25% discount on top of your existing 20% discount!

Not a Molchanovs Movement member but want access to these discounts in the future? No problem. Non-Movement members can join the Movement by registering for Base Training Induction Online (BTIO) - also 25% off!
Canadian National Record Holder Matthieu Duvault has over seven years of experience teaching freediving, and he created Intermediate Freediving Preparation program specifically for beginner freedivers preparing for their next course. And guess what? You don't need a buddy OR equipment! This 4-week program focuses on dry training, equalization, mobility, CO₂ training, and breathing techniques. Remove the stress of requirements and struggling through your dives from your mind during your Wave 2* course by signing up today - your freediving skills will be tip-top to conquer your next freediving adventure.
*or equivalent from other agency
Normal price: 100USD
© Molchanovs
Florian Dagoury, also known as Mr. 10 Minutes for his famous 10'30" breath-hold, is 2nd in the world in the STA discipline. With three different STA Challenges (3-minute, 4-minute, and 5-minute breath-hold goals), his programs are ideal for all levels of freedivers (non-freedivers enjoy respiratory, cardiovascular, and mental benefits, too!). Benefits include stronger and more flexible diaphragm and intercostal muscles, increased tolerance to CO₂, and more comfortable breath-holds and freedives. In his videos, Flo explains the science behind the program and guides you through breath-hold exercises, stretching routines, and mental techniques - all to be performed step-by-step and at your own pace. Break through your breath-hold barriers!
*or equivalent from other agency
Normal price: 50USD (3-minute, 4-minute, or 5-minute Challenge)
© Molchanovs
Adam Stern, Australian national freediving champion and Molchanovs Founding Team member, is well-known for his passion for freediving and helpful equalization videos on YouTube. After so much positive feedback, he decided to make a specific Frenzel Fundamentals program designed for struggling freedivers in need of guidance and specific exercises. After completing Adam's program, you will be able to easily identify each muscle group used for the Frenzel maneuver, have improved control and coordination of equalization muscles, and enjoy a stronger, more controlled overall Frenzel technique. Remember, "The greater the obstacle, the more glory in overcoming it!"
Normal price: 20USD
© Molchanovs
If you are not already a part of the Molchanovs Movement and want to receive access to freediving training programs tailored your level, sign up for a Base Training Induction Online (BTIO) today! This is a 30-minute call with a Molchanovs team member who will be able to guide you through our Dashboard platform and the free training programs available to you. You'll also get a 20% discount on all paid Base Training + programs, early access and offers on the newest Molchanovs freediving gear, and more. Become a part of the fastest-growing freediving community today!
Normal Price: 100USD
Sign up now: 75USD 
COMING SOON
Make sure to stay tuned for our newest highly-anticipated BT+ program - Foundational Breathwork with Alexey Molchanov. Alexey reveals his secrets on how he used breathwork to accomplish his own record-breaking dives. Benefits include increased lung volume, upper body mobility, longer breath-holds, and more! That's it - we've already said too much! Click below to stay in the loop on the release of Foundational Breathwork.
Learn More
---