Why Every Freediver Needs a Silicone Monofin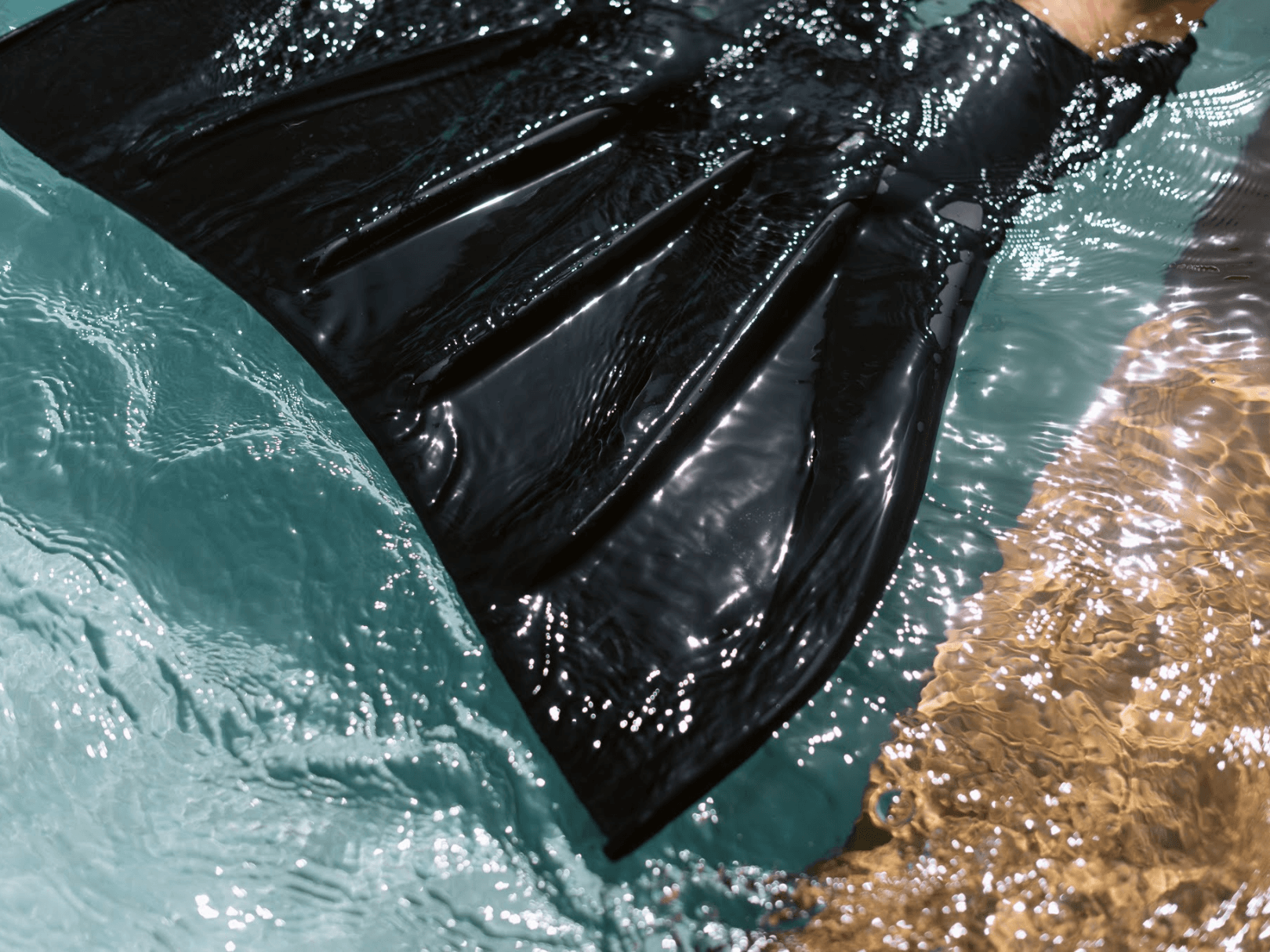 By Kristina Zvaritch
Freediving with a monofin is a completely unique experience, as many freedivers will tell you. Some might even say that it is freediving in its purest form, giving humans the silhouette of sea mammals - the very first freedivers on earth! Alexey Molchanov recognized that freedivers needed another option with monofins - one that lets freedivers experience, learn, and train proper monofin technique with more power and propulsion than short bifins provide (which are often used to train the monofin basics). And so, the CORE Silicone Monofin was developed. So why does every freediver need one?

The CORE Silicone Monofin is a versatile tool for all levels of freedivers (and non-freedivers, too!). People who want to try the monofin, but aren't ready to invest in a performance monofin, can use the CORE Silicone Monofin to get a real feel for it, learn the technique effectively, and experience the true power that comes with it. More experienced freedivers can use it as an efficient training tool for pool and open water, saving their extra-tight (and delicate) composite monofins for maximum performances. Even freedivers who are more interested in fun diving (or mermaiding) than training can use it to experience the unique power and joy that comes from diving with a monofin.
The CORE Silicone Monofin
The CORE Silicone Monofin is the first silicone monofin designed specifically for freediving. Its unique and minimalistic design looks polished and professional on both men and women. The blade has a large surface area, allowing your kicks to be more powerful and propel you further, making it a serious tool for training. On the CORE Silicone Monofin, eight blade rails distribute stiffness evenly and create stability. A semi-rigid connection between the blade and the footpockets makes each kick efficient, while the footpocket itself has anatomically-designed open-heel straps and arch support for optimum positioning of the feet and unparalleled comfort. The silicone used is hypoallergenic, UV-resistant, and very flexible, accommodating both narrow and wide feet and making it virtually indestructible.
Why use a silicone monofin?
Experience
How many freedivers have been desperately wanting to try diving with a monofin, but can't afford one and don't have friends who have a monofin in their size?

It's almost a reflex for people to try dolphin kicking the first time they first wear bifins. The feeling is natural - as freedivers, we're all just pretending to be dolphins, after all. Monofins are also impressive to look at with their almost-hypnotic silhouette and sheer size. However, most of us know that freediving monofins don't come cheap, and the larger price tag can deter people from being able to experience the true power of the larger surface area and deliberate construction of a single blade. But with the CORE Silicone Monofin at a more affordable price tag, you can really get a feel of the monofin, properly learn the technique (see 'Training' below), and sample the hidden power in a way that cannot be captured by bifins or standard silicone monofins. Later, you can purchase a composite monofin such as the PRO Carbon Monofin 4 for more performance if you wish, and train technique with the silicone monofin - or, you can just continue to explore longer distances and deeper depths with the silicone monofin!
Training
Tons of people are already training dolphin kicking using silicone or composite bifins while holding their legs together - isn't that enough?

First, you must understand that monofins are powerful because there is more surface area. This gives the freediver more push and efficiency by grabbing more water. Second, to perform monofin technique, you engage different body muscles than the ones you use for bifin technique - muscles that are stronger. Third, between dolphin kicking with bifins and with a monofin, there are major differences in balance, power, and coordination. If you only train with bifins and then put on a monofin for the first time, you will definitely feel these differences (and don't forget about duck diving and turning with a monofin!). Additionally, if you already have a monofin, you already know the pain felt from wearing it for long periods of time. A 'normal' or 'sport' fit in monofin footpockets is excellent for performances, but might not feel as great if you are training drills or simply for longer periods of time. This is exactly why the CORE Silicone Monofin prioritizes power in its construction of the foot pocket connection and the blade but also makes it a point to ensure comfort with the silicone footpockets.

If you are already participating in Base Training, you know that there are many workouts that focus on training the dolphin kick. Think about how much fun it would be to perform those drills in a monofin and experience the workout's full potential!
Fun
Hey, what about the freedivers who aren't trying to break records or push limits and just like to fun dive?

The CORE Silicone Monofin isn't just a serious training tool - it's also a tool for some serious enjoyment! As we said before, dolphin kicking with bifins is a completely different experience than diving with a true monofin. It's just not the same power - and it definitely doesn't look as cool in photos and videos! Composite monofins are not as comfortable for wearing for long periods of time, and are definitely not easy to travel with! The CORE Silicone Monofin is designed for both comfort AND power, and is practically indestructible, making it easier than ever to take on your next trip to the coastline and explore a shipwreck or a gorgeous coral reef. And if you want to fulfill your dream of becoming a real-life mermaid, the CORE Silicone Monofin is a fantastic mermaid tail that can fit under a cover and give you an extra boost of power when you need it.
Okay, I definitely want to buy one - what now?
Our CORE Silicone Monofin is launching later this year, but you can already pre-book yours now! In the meantime, while you wait for it to arrive, you can learn the basics of monofin technique and stretching in a Molchanovs Wave / Lap 2 - Advanced Freediving course and work on perfecting it further in Wave / Lap 3 - Master Freediver and Wave / Lap 4 - Competitive Freediving course. Additionally, when you become a Molchanovs Movement member (either after taking a freediving course or completing Base Training Induction Online), you get access to Base Training, which includes workouts and drills specifically for monofin technique in the pool and at depth.

We can't wait to see you in the blue with your new silicone monofin!
Our CORE Silicone Monofin is launching later this year, but you can already pre-book yours now!
---