Top 10 Reasons to Become a Molchanovs Freediving Instructor or Instructor Trainer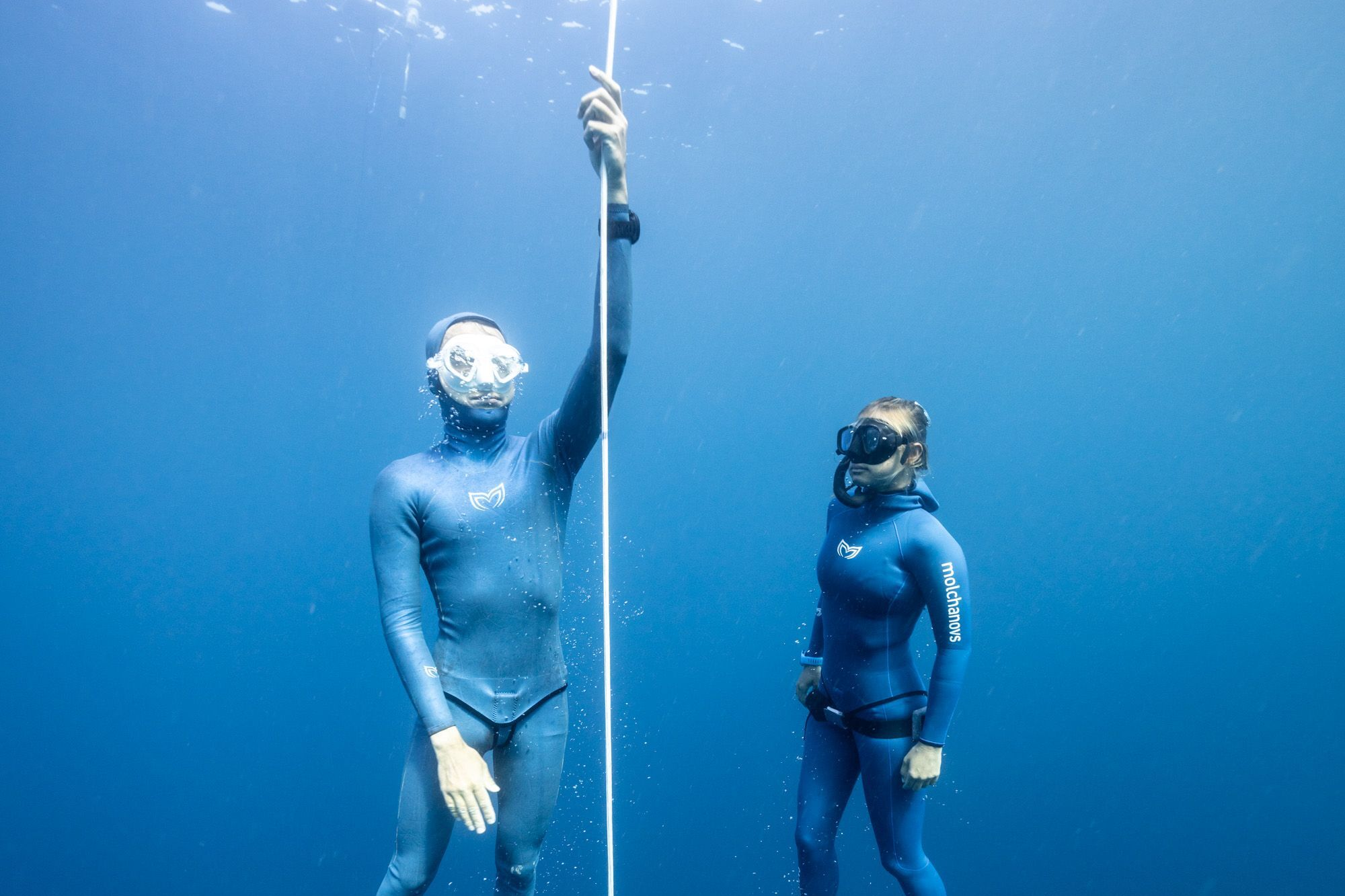 By Kristina Zvaritch
Contributors: Oliver Christen-Drew 
Freedivers who want to become certified instructors face an important decision when it comes to which agency they will choose to represent. While there are many certification agencies worldwide, prospective instructors should look for a reputable agency that supports its students and instructors, provides updated and detailed educational materials, and gives them the best opportunities and value in the professional market. Here are the top 9 reasons why prospective freediving instructors should choose the Molchanovs Education System for their Instructor Course or Instructor Crossover Course.
Online Instructor Crossover
If you are already an instructor with another freediving agency, you have the opportunity to become a Molchanovs instructor or Instructor Trainer (IT) online. Theory sessions are conducted using a video conferencing platform and can be done from anywhere in the world with internet access. With the use of video footage for performance requirements and instructor feedback, the same high level is maintained as in a face-to-face crossover - with the added bonus of saving on a plane ticket!
Molchanovs Freediving Training
Freediving training development should continue even after course completion. With that in mind, Molchanovs offers Molchanovs Freediving Training. Molchanovs Freediving Training is a comprehensive training plan for students who have participated in a course to continue developing their abilities in the dry at home, in the pool, or in open water. With performance-based badges to mark personal achievements, fun badges to keep training light-hearted, and motivational challenges to keep the inspiration alive, students will feel motivated and excited to develop their freediving skills and continue on their freediving journey by taking the next level of courses. Molchanovs instructors often host Molchanovs Freediving Training for groups of students as a training session option.
Wide range of courses
With Molchanovs, you have the opportunity to teach freediving no matter where you are located in the world. Courses for beginners all the way up to exclusive competition-level freediving are available with Molchanovs. With access to open water or deep pools, you can offer Wave courses. If you only have access to a pool, Lap courses and Molchanovs Freediving Training are excellent options for students eager to train for pool disciplines and develop their breath-holds and techniques. Even if you do not have access to a pool or open water, you can introduce your students to their next course level with online Theory courses with T certification from the comfort of your office or home, allowing you to work from anywhere on the globe.
Comprehensive courses and materials
The Molchanovs Education System was developed by freedivers for freedivers, inspired by Natalia Molchanova, and established by her son, Alexey Molchanov, two of the world's best freedivers. Molchanovs is probably the only education system that covers all competitive freediving disciplines, including no-fins and monofin techniques. The Molchanovs Education Team includes elite freedivers, top educators, and experienced support staff, all of whom are passionate and dedicated to freediving. Materials are up-to-date and include the latest research in freediving theory, safety, and techniques in multiple languages and comprehensive videos. Course materials and exams are easily accessible online from your smartphone or computer.
Instructor discounts
Having proper equipment is essential to provide the best and safest learning experience possible. That's why we offer a 15% discount to instructors on everything at molchanovs.com. Not only do you get a discount on record-breaking fins and wetsuits, but you can also purchase training tools (nose clips, EQ Trainers, masks, snorkels, weight belts, and weights), safety equipment (buoys, pulleys, dive lines, and lanyards), bags, and even swimsuits and apparel. If you want to make a large equipment purchase for your schoos for the first time, we can also offer a bigger discount! For more information, send a message to asya@molchanovs.com.

You also receive a 25% discount on Base Training + programs, giving a boost to your own freediving training and some inspiration to pass on to students.
Seminars and webinars
Molchanovs is always invested in the knowledge of their students and instructors, which is why we create seminars and instructor webinars that are centered around everything freediving. Whether there are developments in the freediving world, new techniques to be learned, or helpful subjects such as the Business of Freediving, we are here to continually support the members of our team and our students. We frequently ask our ITs to provide input on changes or to contribute to materials, as their individual voices shape our education system.
Competitive fees
Molchanovs sees their instructors as an investment, which is why we keep our annual membership and registration fees competitively priced. Instructors pay a yearly activation fee of 100USD. For Lap/Wave 1 - 4 students, instructors pay 30USD per student in registration fees, giving students 3 months of free access to Base Training. Busy instructors can also get 10 - 25% off discounts on student registration fees by volume. But that's not all - instructors also receive an exclusive 15% off Molchanovs gear for personal use and resale.
Student satisfaction
With comprehensive educational materials, videos, Molchanovs Freediving Training access, and an extensive freediving content library, students are extremely satisfied with the value of Molchanovs freediving courses. After completing their first course, their access to further training allows them to "stay in the loop" and helps them develop their freediving skills further. Molchanovs Freediving Training keeps certified freedivers engaged and motivated to visit higher-level courses. Certified Molchanovs students also receive special offers and discounts on the top freediving gear in the market and are members of the Molchanovs Movement, a worldwide community of freedivers, where they can ask questions and receive advice, and make new freediving connections across the globe.
A growing agency
Molchanovs is quickly growing in popularity around the globe. Apart from having top athletes and educators contributing to the development of up-to-date educational materials, Molchanovs is solely a freediving agency. Freediving is our only focus and passion, which means we dedicate all our time and efforts to constantly improving the state of the freediving world. Our presence is not only focused on one or two regions specifically but is spreading to every part of the world, allowing our instructors the freedom to work in all possible places!
First group of Molchanovs Instructors, 2018.
Quality Management System
Providing instructors with support is important to Molchanovs, which is why we have a dedicated support team to answer questions and student/instructor input within 24 hours. We have regular newsletters and live webinars for all instructors and ITs to keep everyone updated and a reporting system that deals with all of the feedback we receive. All of our ITs must pass a background check before enrolling in the Instructor Trainer Course. Once they are full-fledged ITs, they and the Director of Education are constantly exchanging information and feedback. Molchanovs expects instructors and ITs to teach from the book and be role models as freedivers, educators, and environmentally-conscious people. With this type of quality management, Molchanovs instructors feel supported and connected to other members of the Molchanovs family and the freediving community.
What our instructors think
I find Molchanovs more professional in material development, with more athlete-thinking in course development. They also have industry-leading online teaching material. Molchanovs Freediving Training is one of the key things to connect between different levels and is a perfect reference for skills and capability improvement.

-Sendoh Wang, IT based in the Philippines

I've taught with several freediving agencies, but what sets Molchanovs apart is the breadth and depth of information on recreational and competitive freediving available to students. Wave and Molchanovs Freediving materials have been created by many of the world's top freedivers, starting with Natalia and Alexey. Molchanovs has been at the cutting edge of freediving for more than 15 years.

-Robert King, Instructor based in the USA

Molchanovs is the only education system that covers all the disciplines and gives much more information than needed, so the freediver has answers to future questions that will come between certifications. My students have found the course materials very easy to access and understand and also use them as a reference to questions that arise during training after certification. The seminars are awesome and help me stay updated on my skills and knowledge, plus they give me the chance to have problems and questions answered so I can deliver the best service to my freedivers.

-Guy Scott Robinson, IT based in the Philippines

Click here to find out how to become a Molchanovs instructor.
---