Film, Freediving & Psychology - Interview with Director of 'Descent', Nays Baghai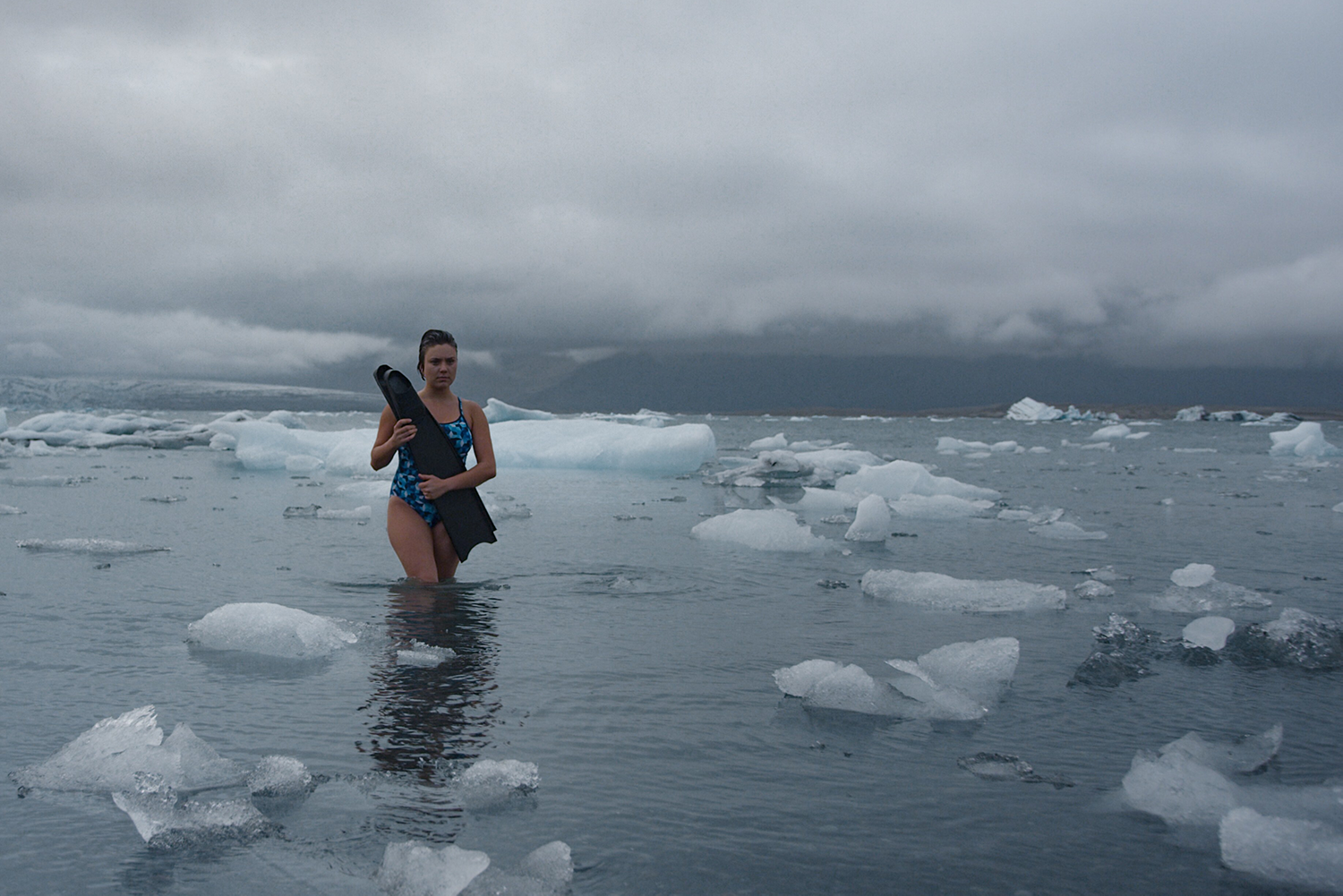 10 QUESTIONS WITH DESCENT DIRECTOR AND FREEDIVER NAYS BAGHAI
Molchanovs Freediving Instructor and Head of Marketing & Operations, Alisa Root, sat down with filmmaker and freediver Nays Baghai, whose new film Descent - about the psychology of ice freediver Kiki Bosch - is premiering at the Sydney Film Festival in Australia on June 10th.
Nays is an independent filmmaker and underwater cameraman based in Sydney, Australia. He graduated from Australia's national film school AFTRS in 2018, and his short films have screened at several international festivals. His first feature film, Descent, is now screening at the Sydney Film Festival, and is a finalist for the Documentary Australia Foundation Award. He has also shot and edited numerous videos for businesses in the corporate and diving sectors, and can dive up to 40 metres below the surface - both with and without tanks. His underwater photography can be viewed on Instagram under @naysbaghai.
Molchanovs Freediving: What is Descent about?
Nays Baghai: Descent is a documentary about the psychology of Dutch ice freediver Kiki Bosch. She dives in the world's cold waters on a single breath without a wetsuit, as therapy for the trauma from a rape she experienced years ago, and to inspire others.
How would you say freediving has helped Kiki?
Nays: When Kiki first came across cold water freediving in South Australia, she was immediately astounded by how she could shut her mind off, be in the present, and move past the scars of her trauma. Although she already knew firsthand about the blissful, meditative experience of freediving in warmer water, the addition of the cold gave her a new lease on life, literally and figuratively. She then began training extensively in cold water immersion, and inadvertently became a pioneer in ice freediving. Since filming finished, Kiki has now shifted her focus as a freediver more towards the meditative and recreational side of the sport. There's actually a line in the film from her that I think echoes a core part of the Molchanovs philosophy - "Depth, length, time - it doesn't matter. What matters is the [intrinsic] connection to the water." 
How has Kiki inspired people to try freediving and/or cold water immersion?
Nays: Kiki's story and incredible accomplishments as a freediver have an osmotic, inspirational effect on nearly everyone who hears her story, particularly those who also come from backgrounds of trauma and/or mental illness. Even before she had become a legend in the freediving and holistic communities, that video of her freediving in Iceland inspired me to jump into my 13°C pool, get better at tolerating the cold, and freedive without a wetsuit more frequently. Since meeting her, I've become an advocate for cold water freediving, partly because of how enticing the challenge is, but also because of the numerous health benefits that make every second of the pain worth it.
Quite a few people who worked with me on the film - one of whom has thalassaphobia due to a near-drowning experience - were inspired by her to try both freediving and ice baths.
How did you come up with the idea for Descent?
Nays: When I decided to become a professional underwater cinematographer while at film school, I decided to complement my filmmaking education with freediving and scuba diving courses. A lot of the dives that were part of my self-prescribed training program were in deeper, colder and murkier waters, and my non-diver friends began to question my sanity, asking me, "Why do you do it?" That question made a massive impression on me, but my growing network of professional freedivers and tech divers made an even bigger impact. When I met Kiki and learned about her story of overcoming the trauma of rape through cold water immersion, that inspired me to finally crystallise the concept of Descent - the psychology of people who specialise in challenging underwater environments.
If you want to make a television series (documentary or fictional), you have to shoot the pilot (the first episode) before the other episodes to prove you're a good storyteller and can deliver on time and on budget. Of the all the stories I had my sights on, Kiki's one attracted me the most, not only because of how poignant and inspiring her journey was, but also because it wasn't too expensive to shoot her scenes. After I graduated from film school, I began working on her story full-time, and I engineered it so that it could function both as an episode in the series as well as a standalone feature film.
As a filmmaker, how do you convey the psychology of a freediver on film?
Nays: What a great question! I'll start by saying that this story would have been impossible for me to tell accurately or effectively if I didn't have a comprehensive background in freediving that had started a decade ago. One of the most quoted rules in documentary filmmaking is to tell stories about topics you are genuinely passionate about and fluent in, otherwise your inauthenticity will show.
However, to actually tell your story, you also need a solid knowledge of the language of film. Before I started shooting, I watched a lot of documentaries (Jiro Dreams Of Sushi, Jago: A Life Underwater) and fictional series (Breaking Bad, The Sopranos) to decipher how they would visually and aurally convey motivations, thought processes and the internal struggles of their characters. I think psychology on film is an alchemised combination of several elements - camera angles, colour palette, sound design, music, performance and editing choices. It's up to you as a director to figure out how to manipulate each of these elements to show a particular psychological state.
If you're working with a real-life character like Kiki, you have to spend time to really listen and comprehensively probe their personality and traits. For instance, Kiki would give me responses to my questions about what goes on in her mind during various stages of a dive. I would then "translate" how to convey her thought processes through camera angles, and meditate in advance on how to direct and edit the scene later onwards.
How has your freediving journey influenced you as a storyteller?
Nays: I like being an observer and paying attention to details and sensations most people don't give a second thought. Every dive, I will mentally notate whether my descent is smooth or sloppy, what the lighting and colouration of the water is like, what the temperature is like, how deep I am, and what I can hear down there. Because freediving is such a deeply sensory experience, it's hard for me not to recall how I feel or what I see during a particular dive. Although I haven't travelled as far and wide as other freedivers, I feel like the mental log of dives I've built up over the years holds many stories and lessons I can draw from whenever I'm either writing or making a film about freediving.
Going back to my earlier point about building a solid background in freediving, I feel like my job as a filmmaker telling the stories of freedivers is similar to that of a translator. The two "languages" of film and freediving are different from each other, and I have a feeling my ability to switch between the two with little effort is why I feel such a strong obligation to make Descent.
Are there any similarities between filmmaking and freediving you've observed over the years?
Nays: I think that freediving and filmmaking do have a few things in common. They are both sports that necessitate a lot of practice and training, as well as long-term stamina. They also both require self-honesty, a high tolerance for pressure, and rock-solid relaxation and problem-solving skills.
One thing I noticed after filming for Descent was over is how the actual process of making a film is actually quite similar to a deep constant weight dive. Preproduction is like the breathe-up, because you need to be oxygenated and relaxed for the stressful journey ahead. Filming is like the descent, because it requires a bit of effort in the beginning, but as you freefall, you adapt to the pressure, and there is a moment of accomplishment when you reach the tag. Post-production is like the ascent, because it requires twice as much concentration and effort to overcome the pressure and looming deadlines. And lastly, the feeling of finishing the film is as nourishing and rewarding as those first few breaths and completing the surface protocol.
How did some of the Molchanov lessons come into play during filming?
Nays: For me, the inspiring stories and life lessons of Natalia and Alexey had a bit of a yin and yang effect on my approach towards Descent. While Natalia's wisdom about the introspective, spiritual side of freediving felt surprisingly analogous to Kiki's story, it was Alexey's determination and precision as a freediver that influenced me as a filmmaker soldiering through the 16 months of production. Alexey's ability to shut out negative thoughts, maintain relaxation and power through to the end of a hard dive was a significant influence on me both as a freediving cameraman and as a filmmaker. Quick side note - Alexey was actually in Sydney for a day after we had wrapped up a week of filming, so it was nice to have a coffee with him and nerd out about freediving.
With Natalia, I think her iconic line about freediving being a way to understand who we are played a role in my decision to explore the psychoanalytical relationship Kiki had with freediving. Natalia also talked about how real freedivers can achieve relaxation without bullying themselves. It was really interesting applying that perspective as I would watch Kiki accept the cold, make no attempt to fight it, and maximise the comfort of her dives in an otherwise hostile environment.
What's your personal connection with Molchanovs, and what are your thoughts about the system?
Nays: My connection to Molchanovs really started when I took my advanced freediving course with Adam Stern. Although he wasn't yet teaching under the Molchanovs system  at the time, nor was he the YouTube superstar he is now, I immediately noticed see how his teaching style, philosophy and inimitable enthusiasm was something different. It was thanks to him that I eliminated a lot of bad habits, particularly in CWTB. A year later, when he joined Molchanovs shortly after it was officially unveiled to the public, I was particularly impressed with not only the "by freedivers for freedivers" mantra, but also in how the system encourages freedivers to keep growing and discourages the complacency that comes after completing a one-off course. I really like how because of this, the community of students and instructors has become incredibly fertile, and the esoteric perception of freediving is eroding away.
One quick Molchanovs story - about two years ago, I met Alexey via Instagram when he saw a photograph I had posted; it was one of former Australian record holder Nathan Watts, descending with a Molchanov monofin juxtaposed against the Sydney Opera  House and Harbour bridge. When Alexey asked me if he could purchase the photo to use for the Molchanovs social media accounts, it was one of my proudest moments as an underwater cameraman. I've also had the chance to photograph competitive freedivers utilising Molchanov monofins and bi-fins. Having tried them myself during a few pool training sessions, I can understand why they're so popular!
What's next with Descent?
Nays: Right now, my full-time job is now expanding Descent into a larger project beyond  the feature film. We have optioned all 12 characters (two of whom use Molchanov products) for future episodes and I've started conversations with potential backers. Now, it's just a matter of being patient. I'll also be writing a book about the characters' stories at the same time, which is something I'm eagerly looking forward to as a storyteller.

PHOTO CREDITS, in order:
Nays Profile - Daniel Williams
Greenland Underwater - Stefan Andrews 
Kiki Milford Closeup - Peter Lightowler 
Jokulsarlon Wading - Eero Heinonen 
Nays & Gates Housing - Daniel Williams 
Triangle - Stefan Andrews 
Opera House Shot - Nays Baghai 
---