The Adriatic Pool Trophy 2023 Concludes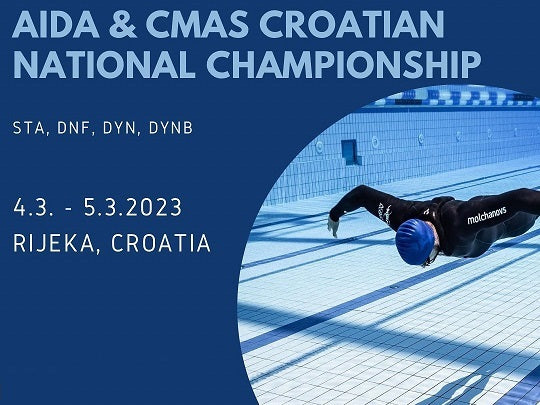 Asya Kleschevnikova, Head of Sales & Customer Service
asya@molchanovs.com
molchanovs.com
Rijeka, Croatia, 5 March 2023 - The annual Adriatic Pool Trophy, held this year in Rijeka, Croatia, has concluded.
The competition was held in the Kantrida swimming pool on the shore of the Adriatic Sea. Renowned for ideal diving conditions, Kantrida has previously hosted numerous European and World Championships.
Athletes from all around the world numbered almost 60, including around 10 first-time competitors. The Adriatic Pool Trophy 2023 was especially ideal for both first-time and experienced athletes, with a registration fee of only 65EUR with prizes for rookies and volunteers, among others. Organizer, club owner, and President of AIDA Croatia Vitomir Maričić acted as a judge alongside Petar Klovar and Lidija Lijić.
The Adriatic Pool Trophy 2023 gave athletes the opportunity to be judged according to both CMAS and AIDA rules in STA, DYN, DYNB, and DNF. There was one new male AIDA/CMAS Croatian National Record. Vouchers provided by Molchanovs were given to the 1st, 2nd, and 3rd place overall winners for both males and females.
Competition Results
New CMAS Croatian National Record
CMAS - DYNB - Goran Čolak (HRV) - 275.9m/905ft
Overall winners
Male - Donat Faraguna Gnjatović (HRV) - 261.1 points
Female - Sanda Kukuljan (HRV) - 189.1 points
To see the full list of results, see AIDA's Event Results page on the competition.
This year's Adriatic Pool Trophy was streamed live on YouTube for the first time ever, providing access to the competition for thousands of people all over the world. Due to the success of the livestream, Vitomir plans on making the next competition world-class status with 4 lanes and additionally holding a World Championship in the coming years. He also plans on organizing 4 pool and 4 depth games every year and having the overall amount of points count toward an ultimate yearly award.
What's next?
The Adriatic Depth Trophy, which is Vitomir's club's next competition, is scheduled for May 29 - June 3 in the Krusija channel, Krk, Croatia. The entry fee is 320EUR and includes one training session and four competition dives. Interested participants can contact adriaticfreediving@gmail.com for more information.
---