A New Singaporean National Record with Silicone Bifins: Interview with Fu Xingqiang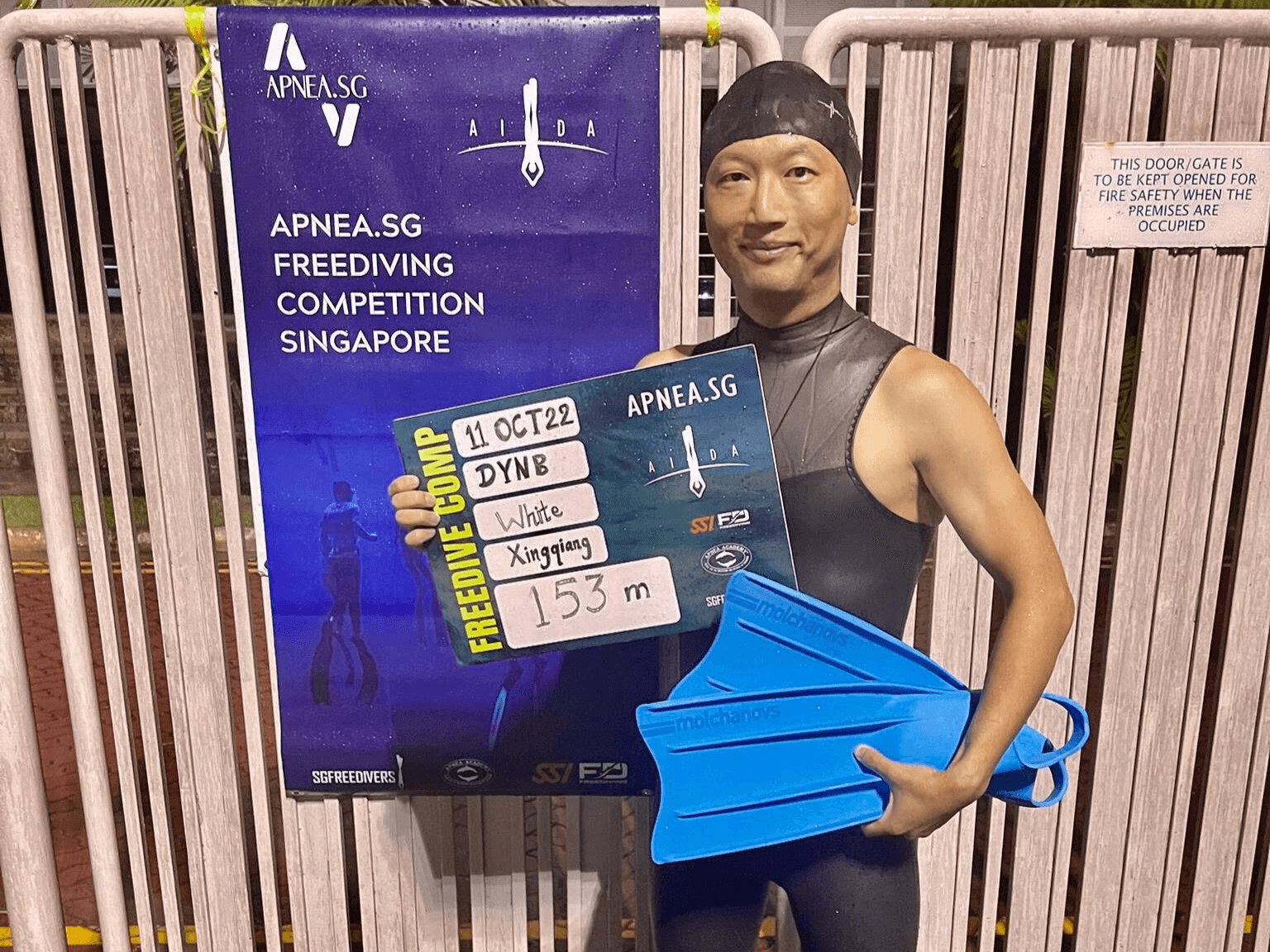 By Kristina Zvaritch
The
Molchanovs CORE Silicone Bifins
have made another appearance at a competition - and this time with a national record in tow!
On October 11th, 2022, Singaporean athlete
Fu Xingqiang
made a big splash at the
AIDA APNEA SG DYNAMIC 2022
pool competition in Singapore with a 153m (502ft) performance - and in
silicone bifins
, no less.
Xingqiang is a 13x National Record Holder, currently holding records in DYN, DNF, CWT, and CNF. His personal bests in pool disciplines are DYN - 227m (745ft), DNF - 180m (591ft), and DYNB - 211m (692ft). Before this competition, he hadn't yet competed in bifins, hoping that someone else would come forward as the bifin champion of Singapore. Interestingly enough, Xingqiang had only one training session with the silicone bifins and then went straight to the competition with them the very next week. As he was feeling fresh after his 153m (502ft) performance, his new goal is to try 180m (591ft) in the same silicone bifins sometime in the future after his DYN and DNF goals are complete.
We sat down with Xingqiang to learn more about his training, diet, future goals, and thoughts on the CORE Silicone Bifins' performance.
Molchanovs: Hi Xingqiang; thanks for sitting down with us! So first, an easy question - why do you freedive?Fu Xingqiang
: It makes me happy and makes me stronger. It also helps me to understand myself more and make more friends.
MI: That's great! And since you've started freediving, has it changed you or your life? If so - how?FXQ:
Yes, it has changed my life. I've become more steady and healthier, and those are the things I needed to improve my freediving results.
Molchanovs International: Fantastic. So how exactly did you prepare for this particular dive?FXQ:
The Official Top was 9:25 p.m., and I normally don't dive at such a late time of the day. So after a regular lunch, I ate 2 bananas and a bar of dark chocolate at about 6 p.m. After, at 6:30 p.m., I did some body and lung stretching.
MI: Okay, good to know! And what were you feeling and thinking about during your dive?FXQ:
I was enjoying the cold water flowing over my face. The planned dive was not close to my limit, so I wasn't very stressed during the dive. I knew there was a videographer taking a video of my dive, so I was also thinking about making my finning look good so that I could look good in front of the camera.
MI: For sure, I think anyone would be thinking the same! So, can you tell us why you chose bifins for this competition and why specifically the CORE Silicone Bifins?FXQ:
I wasn't planning to do a big dive for the competition, so I decided to do something else rather than my favorite disciplines (DYN and DNF). Also, the Singapore national record for DYNB is 150m (492ft), so I was quite confident I could break it by a few meters. I was inspired by Alexey Molchanov when he used CORE Silicone Bifins to dive down to 100m (328ft), so I decided to use the same fins to see if I could easily perform a 150m dynamic dive.
MI: And you did it - congratulations! Tell us what you think of the CORE Silicone Bifins.FXQ:
The foot pockets are very comfortable, and I like that you can use them for regular training to practice for a long period of time and work on technique. They're also short, which means that you can put them into any regular suitcase or even just a bag.
MI: Yes, they're definitely easier to travel with than regular bifins or a monofin. So Xingqiang - how do you handle your own and others' expectations of you?FXQ:
Both my expectations and others' expectations create stress for me. I set expectations a few days or weeks before this dive, but during the dive, I just treated myself as a normal freediver - the same as other freedivers.
MI: And do you ever worry about blacking out?
I don't worry too much about blacking out because I normally don't push myself too far outside of my limits. I do max/submax dives every week, the same distances I have done many times before, so I know myself. However, during competition, I might be a bit more careful because it is very different from training. I don't think I'll know when I'm crossing the boundary into a BO, and normally I end my dive way before that point. Most of my long dives normally end because I feel too much lactic acid.
MI: Great outlook! So what's your next goal in freediving?FXQ:
My next goals are 200m (656ft) in DNF and 250m (820ft) or more in DYN.
MI: Excellent - we wish you the best of luck, of course! So to wrap up, what advice would you give to people who are thinking of trying freediving?
FXQ:
I would say freediving is a lifestyle and social activity. You will only enjoy the whole package if you keep on training and sharing with others in your community.
Congratulations again to Xingqiang for his new Singaporean national record! You can follow Xingqiang's freediving journey with the social media links below.
Instagram:
@fu_xingqiang
Xiao Hong Shu:
@fxq
Molchanovs designed the first silicone bifins and silicone monofin on the market to help freedivers develop and perfect symmetrical finning technique. While they were designed primarily as training fins, these fins have also gone to some impressive lengths and depths - check out Alexey's 102m dive!
---