Vitomir Maričić Reviews the Entire Line of Molchanovs Bifins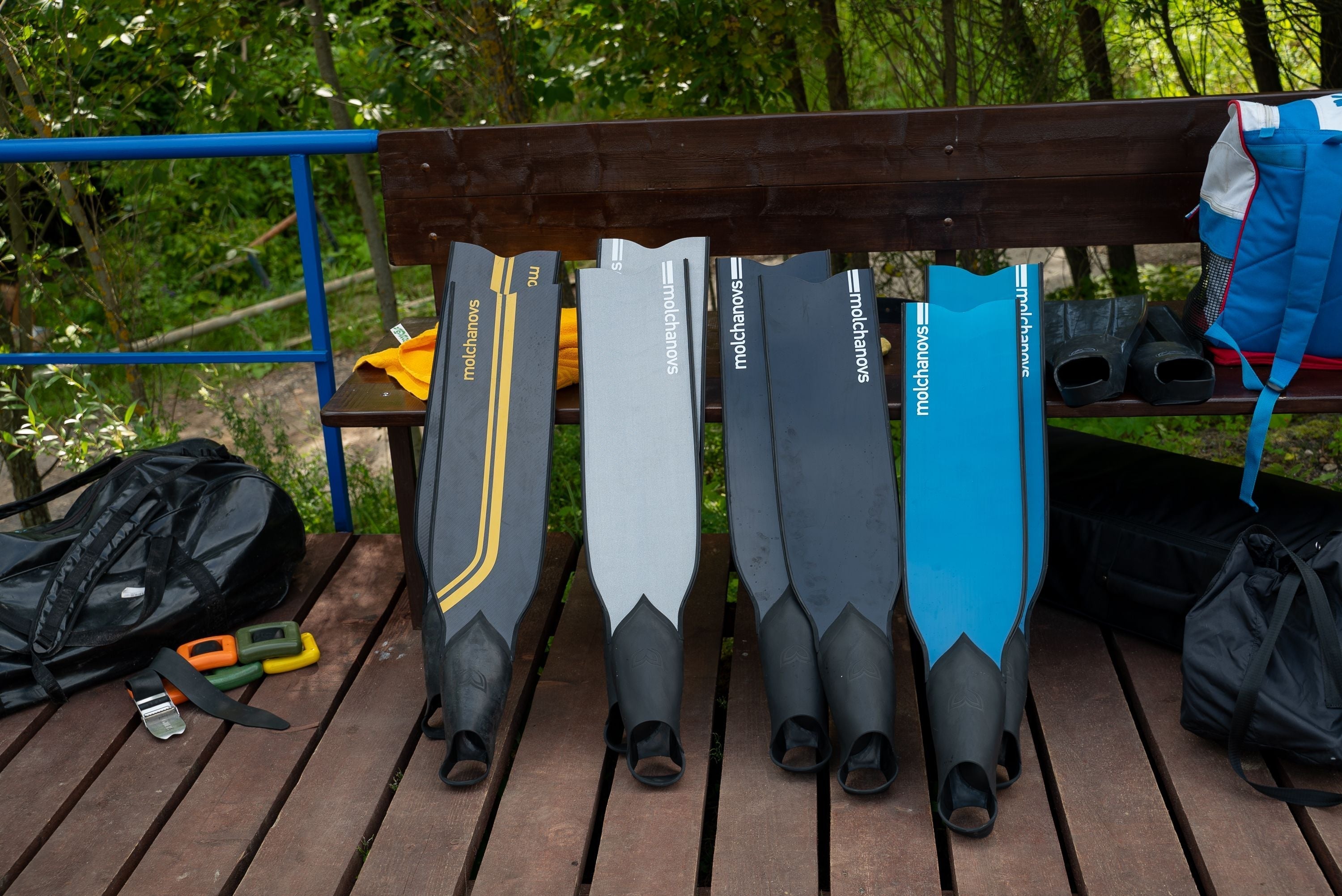 In our YouTube video about our full range of freediving bifins, we sit down with Vitomir Maričić and hear his thoughts on the advantages of each pair of bifins, which bifins are good for what kind of training, and his overall opinion of them. Vitomir is a multiple freediving world record holder, freediving instructor and coach, and president of AIDA Croatia. Within Molchanovs, he is a Movement Board member, Wave and Base Training contributor, and an athlete/ambassador. 
CORE Silicone Bifins
Vitomir waited a long time for the CORE Silicone bifins and finds them an amazing piece of gear, especially how soft and indestructible they are and how easily they can fold into a bag. He dove CWTB 75m (246ft) deep with them and found them effortless to use and with a lot of power behind them, which is excellent for training distance in pool or depth in open water. He feels that these fins are perfect for both students and instructors, and are especially good for technique practice.

The CORE Silicone bifins will officially be available in May 2021!
photo by Daniel Kolodin
Competition Bifins 2 Fiberglass
The CB2 Fiberglass are outfitted with the same new hand-built foot pocket as on the CB2 Carbon. Vitomir feels this new edition of fiberglass fins is very comfortable; his favorite is the soft model as he does not feel much effort on his part when he uses them, yet they still make him super fast. The secret is in the structure and design of the blade, the reactivity of the blade (similar to that of the CB2 Carbon), and the firmness of the foot pocket and its attachment to the blade. For him, the CB2 Fiberglass are better than 90% of the carbon fins he has tested in the past, and for the price of the fins, he feels that freedivers cannot get elsewhere this quality of fin, paired with its performance, for this kind of price. He believes that this is an amazing option budget-wise and should be the first serious pair of bifins for freedivers.
Carbon 1 Shorties
Vitomir feels that the C1 Shorties are a very serious fin. He needed a pair of them for extra maneuverability for teaching freediving courses, for underwater photography, and for easy packing. When he performed 16x50m sprints with the Shorties, his total performance time was under 14 minutes due to the shape of the blade, the firmness, and the shorter length, making the Shorties excellent for sprinting. Vitomir states that since they take a lot more energy to use, they are a great pair of training bifins and are excellent for travel.

Currently, the C1 Shorties are sold out, but check back in with us this summer for our new model of Shorties!
photo by Kohei Ueno 
Competition Bifins 2 Carbon
Comparing the CB1 and CB2 Carbon, Vitomir fins that the CB2 Carbon is even softer than the CB1 Carbon. All of his world record performances and his CWTB national record performance were achieved using the CB1 Carbon, and he feels that the CB2 Carbon are slightly lighter and more effortless to use; he also loves the new hand-built foot pockets on them. He measured his lactic acid build-up and found that there was less when using the CB2 Carbon, and turns to them for longer teaching sessions in the water. With these new bifins, Vitomir thinks that freedivers can really push the limits for depth and pool.
photo by Nick Oceanic
Vitomir's top choices
Vitomir chooses the CB2 Fiberglass as his overall winner due to how comfortable they are, how nice they are to use, and the pricing on them. But for top performance, his pick is the CB2 Carbon for their power and efficiency. There is no wrong choice a freediver can make when it comes to Molchanovs bifins. For learning proper technique to get the most out of any pair of bifins, make sure to
enroll in freediving course with Molchanovs Freediving Education
, and always remember to never dive alone.
See you in the blue!
---