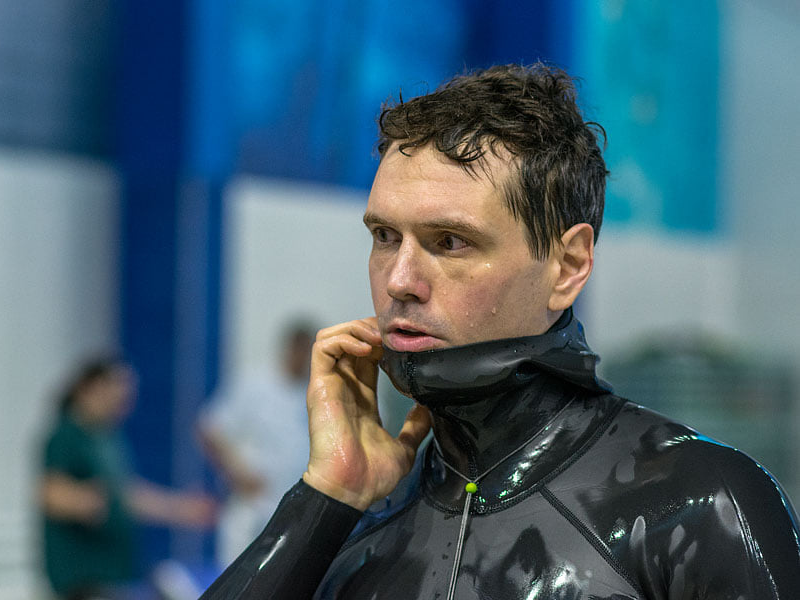 Born in Krasnoyarsk, Siberia, Russia, Mihail worked as an engineer for 10 years. He began freediving only six years ago after watching a video of Guillaume Néry for the first time, and his first three years of freediving were spent solely diving for recreational purposes. In February of 2018, Mihail participated in his first freediving competition and achieved 2nd and 3rd place in different disciplines, which resulted in his taking part in the Russian Freediving Championship.
Mihail began dominating the DYN discipline, winning the 2019 AIDA Russian Freediving Championship, the 2019 and 2021 CMAS Russian Freediving Championships, and the 2019 CMAS European Championship, all in DYN. In 2021, He also placed 1st overall in the 2019, 2020, and 2021 Russian National Indoor Championships, and is the 2021 CMAS World Vice-Champion in both DYN and DYNB. As of 2021, he is the AIDA Russian national record holder in DYNB with 253m (830ft), which is 3m (10ft) more than the official AIDA World Record (however, that particular competition did not have world record status).
Before freediving, Mihail did not have any previous achievements in sports, therefore he was very surprised and motivated by his own results. He always enjoyed cycling and going to the gym, and uses them to support his freediving training. Once sports and family started demanding more of his time, he quit his engineering job and established his own business. In 2021, Mihail became a Molchanovs Freediving Instructor in both pool and depth, and is currently working on developing freediving in the Russian region of Siberia.
---